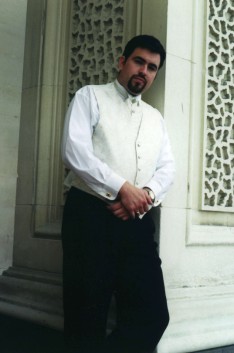 MUSIC



THE EARLY YEARS
CONCERTS
RECORDINGS
COMPOSITIONS
OTHER INSTRUMENTS
PHOTO GALLERY

COMPOSITIONS

Once Nathanael started receiving piano lessons at 14 years old, he soon developed a love for composition. He wrote mainly short pieces for piano at first, and then went on to compose larger and more complex works, aided by his private and school studies in Music Theory. He soon discovered that he was not only 'Pitch Perfect', but also had the strange subconscious ability to link chords with certain colours - a form of Synesthesia. In 1995 he wrote a list describing some of the sound-colour connections he experienced, and utilized these colours in his first Piano Sonata - subtitled "An Autumn Impression".

Here is a list of Nathanael's chord/colour connections:



C major & minor = Scarlet/Red
D-flat major = Reddish Orange
C-sharp minor = Deep Red
D major & minor = Yellowish Orange
E-flat major = Olive/Grass Green
E-flat minor = Deep Dark Green
E major & minor = Emerald Green
F-sharp major & minor = Deep Purple
G major & minor = Yellow Gold
G-sharp minor = Ivory/White
A minor = Clear/Transparent/Silver
B-flat major = Brownish Magenta
B-flat minor = Dark Magenta
B minor (favourite key) = Stormy Greyish Blue






- Nathanael Provis compositions include: -



- New Zealand Pieces - for piano (incomplete)
- String Octet in B minor - four movements in classical style - scored for two violins, two violas, two cellos, & two double basses (complete)
- Suite for Wind Quintet (incomplete)
- Ballad Ancien - for Viola & Orchestra (complete)
- Six Sparkling String Serenades - for Violin & Viola (incomplete)




THE PIANO SONATAS

- the first three of which won first place in a local composition competition:


- Piano Sonata no. 1 in D - one movement (completed 1995)
- Piano Sonata no. 2 in B minor - four movements (completed 1998)
- Piano Sonata no. 3 in A minor - one movement (completed 1997)
- Piano Sonata no. 4 (incomplete)
- Piano Sonata no. 5 'Monothematic' (incomplete)

- Piano Duet in A minor (complete)
- Piano Duet in F major (complete)




PIANO CONCERTOS



- Piano Concerto in B minor - 'The Black Sea' - (complete)
- Piano Concerto in A minor - The 'Eastern' - (incomplete)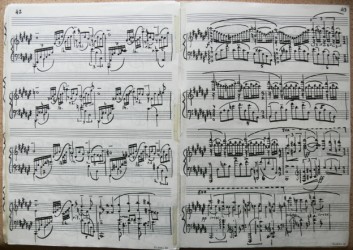 A page from the B Minor Piano Sonata manuscript






- Piano Concerto in B Minor -
'THE BLACK SEA'




Since the B minor piano sontata has been modified into a complete piano concerto, the work as a sonata no longer exists at the composer's request. The concerto is largely Romantic - reflecting the sounds of some of Nathanael's favourite European cultures and musical styles. It is in four movements:



1. Allegro non Troppo
2. Andante Cantabile
3. Presto Leggiere
4. Allegro Tempestuoso




MOVEMENT 1: The strings and piano introduce a waltz theme - which becomes the main theme of the concerto. According to Nathanael, this theme is to represent the feeling of flying, soaring, or gliding, and it was written around the time he first flew on a commercial flight overlooking some picturesque coastal scenery bathed in soft late-afternoon sunlight. A counter theme in the home key and a passionate orchestral interlude lead to the second theme in F-sharp minor. The development culminates with a dark cadenza, before returning to the opening theme and modified counter and second themes, followed by a brief coda.

MOVEMENT 2: Soft strings introduce a new nocturnal melody. The piano enters with guitar-like chords, and then repeats the theme. As in a dream, the thought is interrupted by a series of scenarios and emotions. After a fleeting scherzando, the orchestra attempts to resurrect the main waltz theme - which the piano hastily rejects - and after a stretto passage, the piano quietens down and plays a thinly-notated melody before resolving back to the movement's original guitar chords, and ending on the somewhat unstable-sounding first-inversion home key chord.

MOVEMENT 3: The melancholies of the nocturne are soon forgotten as the scherzo takes flight. Quite possibly one of the shortest concerto movements ever written (coming in at under a fleeting one minute in length), it could be described as a glimpse of a vibrant Eastern-European nautical dance.

MOVEMENT 4: The finale begins with a shipwreck amidst a raging tempest. After the swells subside, the second movement's theme returns as a delicate piano solo. The orchestra joins in and raises the melody to a fortissimo climax, before it unexpectedly descends into a dark distant waltz accompanied by soft pizzicato strings. The ocean theme attempts to return, but quickly dissolves into the development and cadenza. After the piano cadenza has relented, the string section softly re-introduces the concerto's opening B-minor waltz theme with violin and cello solos, and when the piano joins in the work makes its way towards the triumphant coda - rising above the dark trills of the bass instruments and dancing victoriously to the final tonic chord.
NEXT >