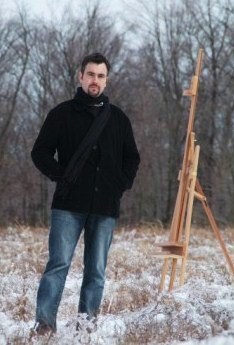 ARTIST



ABOUT
ORIGINALS
CURRENT PROJECTS
LIMITED EDITIONS
EXHIBITIONS
GALLERIES

CURRENT PROJECTS



The
'MIGHTY PEAKS OF AOTEAROA'


A series inspired by the massive dramatic landscape paintings of 19th Century American artists Frederick Church and Albert Bierstadt, and the music of Russian composer Sergei Rachmaninoff. Nathanael started with onsite research before applying the first brush-strokes to these huge 10' x 5.5' linen canvases.



The 'Mighty Peaks of Aotearoa' series no. 1
"TAPUAE O'UENUKU"
Oils on Belgian Linen - 10' x 5.5' (3000 x 1750mm)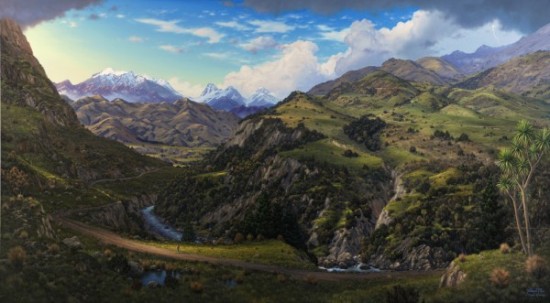 Nathanael chose to paint Marlborough's Mount Tapuae O'Uenuku from the north side, looking down the Awatere River's dramatic gorge and surrounding rugged foothills. "This painting depicts the start of a journey - the road is long and sometimes dangerous, and the weather is closing in, giving a sense of urgency, and this particular area of New Zealand was perfect for portraying this feeling". Nathanael also states that the music of Rachmaninoff's Symphony no. 2 in E minor also played an important role. "For me I can't help but sense huge dramatic landscapes in my mind when I listen to this music".


| | | |
| --- | --- | --- |
| | | |
| During one of several research trips up the Awatere Valley, Nathanael stands next to the turnoff to the Hodder Valley and Mt. Tapuae O'Uenuku | An early morning photo looking towards Mt. Tapuae O'Uenuku, with the Awatere River in the foreground. | An early morning photo from the area that Nathanael decided to paint the mountain from. |
| | | |
| The first stage of the underpainting | The complete underpainting | Detail is gradually added |
| | | |
| Nathanael chose a dramatic and foreboding skyscape for this painting | Detail from the lower right | Nathanael adds a solitary figure to the winding Awatere Valley road |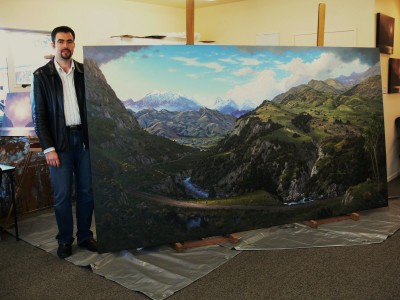 This work is sold and currently hangs in a private collection.




The 'Mighty Peaks of Aotearoa' series no. 2
"TUTOKO & MADELINE -
THE MONARCHS OF FIORDLAND"
Oils on Belgian Linen - 10' x 5.5' (3000 x 1750mm)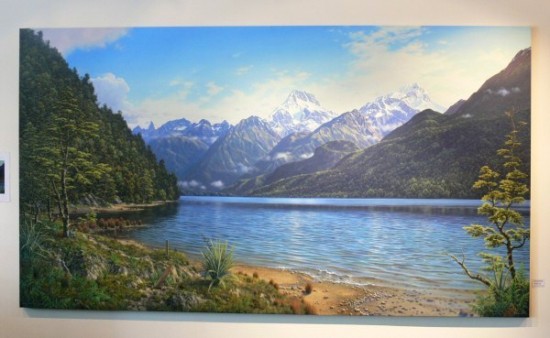 Being the second 'chapter' in the 'Mighty Peaks of Aotearoa' series, Nathanael decided to paint a scene of tranquility to contrast with the previous more sombre painting in this series. This view of Mts. Tutoko and Madeline - Fiordland's tallest peaks, is seen from the shores of the beautiful Lake Alabaster, nestled east of the dramatic Darran Mountain Range in the heart of Fiordland National Park. Much of the reference material used in this painting was taken from video footage that Nathanael took from a helicopter while flying over remote areas of the Fiordland wilderness. "This scene is about resting, taking time to relax from the journey and to enjoy one's surroundings".


| | | |
| --- | --- | --- |
| | | |
| The complete underpainting with additional detail | Further detail is added, with the foreground foliage shaped out | A close-up shot of the lower foreground |




The 'Mighty Peaks of the World' series no. 1
"THE GRAND TETON"
Oils on Belgian Linen - 7' x 4' (3000 x 1750mm)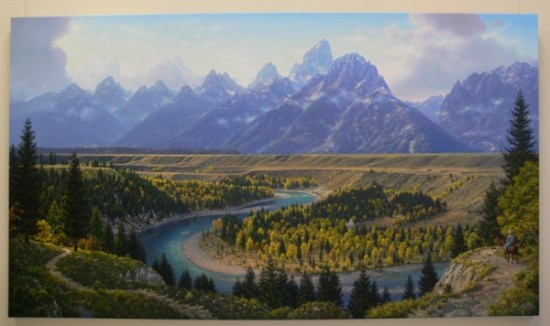 Nathanael chose the spectacular mountain scenery of Wyoming U.S.A. for the very first painting in his "Mighty Peaks of the World" series. He flew to Jackson Hole in September 2007, where he spent some time exploring and photographing the landscape around the Teton Range. It was a tough decision to decide which angle to paint the Grand Teton from, but Nathanael finally decided to paint it from an elevation overlooking the turquoise waters of the Snake River. He later returned to Ohio, where the bulk of this painting was completed.


| | | |
| --- | --- | --- |
| | | |
| The sky and mountains are shaped out at the start of the underpainting | The underpainting is completed, and further detail gradually added | A cowboy and his horse are added to the lower right hand side |
NEXT >